People's habits and how they deal with things have changed along with the changing times. The situation has changed since people used to bet offline with their friends and had limited options when watching sports on TV. Sportsbook Betting Software solutions facilitate online sports betting across a wide range of sports. Users can create their own sports teams and feel as if they are playing in a virtual world. To generate great leads, retain users, and achieve high ROI, many gaming entrepreneurs are interested in building their own sportsbook betting software.
You can develop sports betting mobile apps with White Label betting software and custom-built sports betting software if you hire sportsbook betting software developers from a leading development firm. Are you interested in learning how to build your own sports betting app software? Get an in-depth guide by reading this blog.
White-label sportsbook betting software: what is it?
Sports software of this type is known as customizable or architectural software, which enables bookies to add betting events, types, and matches at their convenience. It gives them full control over which events, games, and betting types to bet on. As compared to other platforms, white-label sportsbook betting software is more affordable and flexible. With this ready-made platform, you will save time and money on development, testing, and licensing.
Providers of sports betting software can develop solutions with the features they want and can customize them as well. Various sports, matches, or events can be betted on through these sports betting apps or websites.
Your analysis and research will require you to hire a team of skilled and dedicated sports betting app developers who can develop these kinds of sports betting mobile apps. In this case, white-label betting software would be a good choice.
What is the most popular sportsbook betting mobile apps?
There are many sports betting mobile apps available in the market if you don't have any idea about sports betting mobile app development. If you want a sportsbook betting software that has advanced features, you can go for a White Label sportsbook betting software like
Bet365.
Betfair
Pinnacle Sports App
William Hill
Paddy Power
How To Build Sportsbook Betting Apps Like 365? – Step-By-Step Process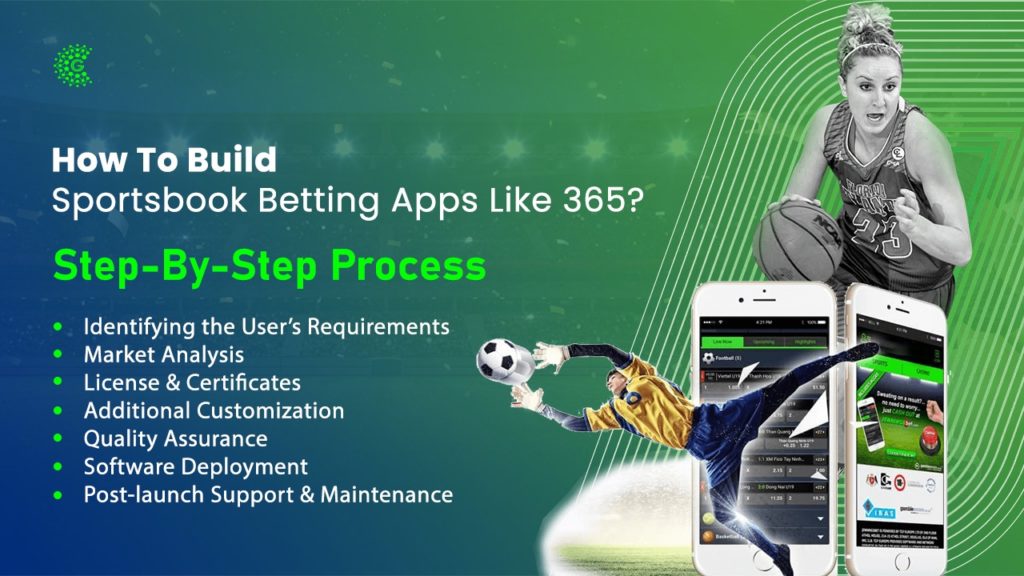 You should consider the entire sports betting development process when hiring white-label betting software providers. A few phrases that are essential to the development process are listed below.
1. Identifying the User's Requirements
2. Market Analysis
3. License & Certificates
4. Additional Customization
5. Quality Assurance
6. Software Deployment
7. Post-launch Support & Maintenance
How much does it cost to develop a sportsbook betting application?
When developing sports betting apps such as Bet365, there are several factors to consider. Among these factors are the software platform, features, complexity, as well as location, and team of developers.
The cost of developers varies as per the different areas-
India-$15-$80 per hour
Eastern Europe- $20-$150 per hour
Western Europe- $30-$180 per hour
North America- $50-$200 per hour
Australia- $50-$160 per hour
As a result, the overall cost of developing a sports betting app will be up to $25,000. You will, however, be able to determine the exact sports betting app development costs when you hire experts. 
Also read: How much does it cost to build a Sportsbook app
Features & Complexities of Software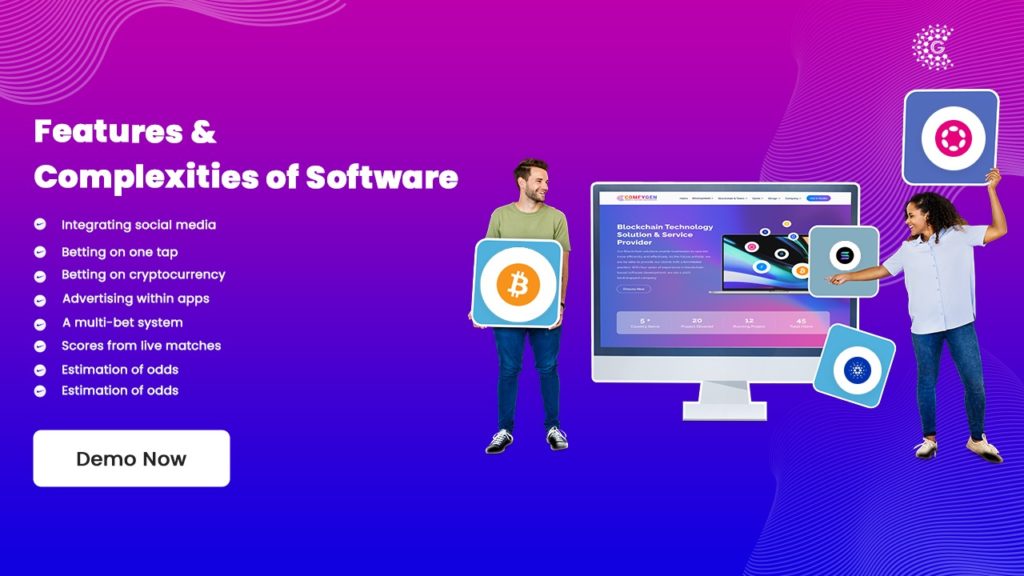 The mobile betting app development cost will be higher if you want to include core and advanced features. The platform will provide players with an amazing experience as a result. The following features should be added to your app:
Integrating social media
You can let players share their winnings on popular social media networks by integrating them into your sports betting mobile apps.
Betting on one tap
Your bet is placed with only one click on your mobile phone. Using the app is easy and quick for all ages.
Betting on cryptocurrency
To gain a competitive advantage, evolve your customer base, and increase revenue, hire a sports betting app developer who accepts virtual payments.
Advertising within apps
You can increase your revenue by featuring ads of third-party ventures in your app. Clicks, views, impressions, and other metrics can also be used to earn.
A multi-bet system
Provide your app players with multiple betting options to suit their preferences. It will be perfect to combine multiple sports betting with multiple sports.
Scores from live matches
Live scores must be provided to users, along with information about current matches, leagues, and tournaments. By doing so, they will be able to formulate a winning strategy.
Estimation of odds
It allows players to keep track of how much money they have when they place a bet on a particular dart.
Multilingual & multicurrency
Depending on their preferences, players from different regions can choose the native language and currency of the game.
In addition to increasing the Sports Betting App Development Costs, adding features will also increase the complexity and performance of your app. Consider carefully the features of your app. 
Technology Stack Significant For Sportsbook Betting Apps
Database– Hbase, MongoDB, Cassandra, PostgreSQL
Real-Time Analytics– spark, Hadoop, Cisco, IBM, Apache Flink
Cloud Environment– Google and AWS
Macintosh, Debian, CentOS, Ubuntu– Worldwide Operating System
Tipgin– Have soccer betting predictions and tips
ESPN– For live matches
Donbest– To acquire real-time sports information
MongoDB– To handle, update, and control the user queries.
Swift and Kotlin– To effectively code iOS and Android apps.
Sinch, Twilio, Nexmo– For authentication via voice, SMS, and phone
MailChimp Integration, Mandrill– To handle each thing correlated to emails
Datastax- data management
Sportsbook Betting Software Development Team
It is important to have a team that can provide enough software elements. Here are the members of the team:
Project manager
Business requirements analyst
UI/UX designers
Web developers
Android or iOS app developers
QA engineers
Developer's Location
Also read: How To Start A Legitimate Fantasy Sports Business In India: Complete Guide
Final Words
Our expert sports betting app developers at Comfygen never compromise on the quality of your white-label betting software regardless of your requirements, ideology, and features. Offering high-quality end-to-end solutions at an affordable price is what we do. We offer thrilling sports betting app software, so hurry up and come to us. 
Let us take care of the rest, whether you choose a basic or an advanced version of the app. Assisting you to develop sports betting mobile apps and websites for your betting business idea is what our sports betting mobile game development company does.
Quick Contact Us:
Call/WhatsApp: +91 9587867258
Skype: sales@comfygen.com
Email: sales@comfygen.com