Smart Contract Development
Our smart contract development services can revolutionize your business on private, public, and hybrid blockchains. Using our smart contract services, enterprises can automate operations, streamline workflow, and reduce costs through our deep expertise in various smart contract programming languages and tech stacks.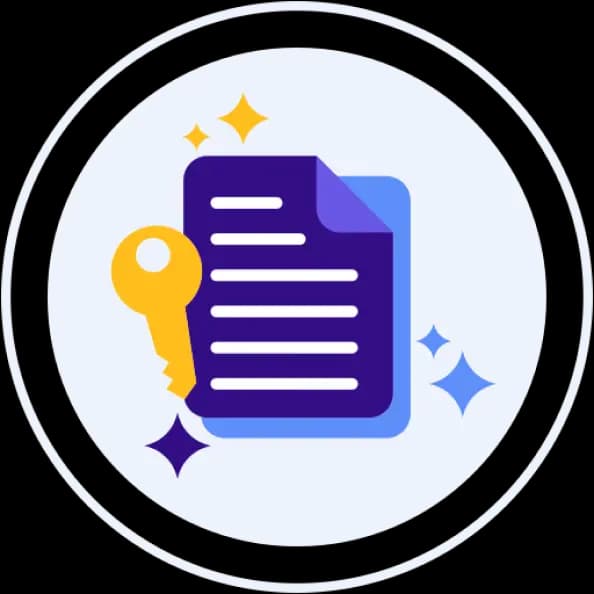 Smart Contract Development
Services
Development Of Smart Contracts
Every industry uses smart contracts differently depending on the size and design of the company. Regardless of the industry, we design and build cutting-edge smart contracts at
Auditing smart contract.
The code that underpins the conditions of a smart contract is examined by developers during an audit. Our professional audit team checks smart contract security vulnerabilities using top-notch human and aut
Optimization of smart contracts
Our team identifies specific flaws and expensive models, along with ways to optimize and improving smart contracts. The loop is optimized, inaccessible or dead code is removed, and generic features such as short-
DApps with smart contracts
An Ethereum-based platform can host a DApp logic and backend protocol as a smart contract. Performance, quality, and responsiveness of Dapps are ensured by our smart contract solution
DEX Smart Contract
To ensure the security of decentralized ECO systems' exchange operations, we develop decentralized exchange smart contracts that ensure end-user data privacy, private key architecture, business logic, and data maintenance.
Digital wallet smart contract
Multi-signature digital wallets designed by our engineers are capable of storing and safeguarding digital assets as well as enabling smart contract transactions using blockchain smart contracts.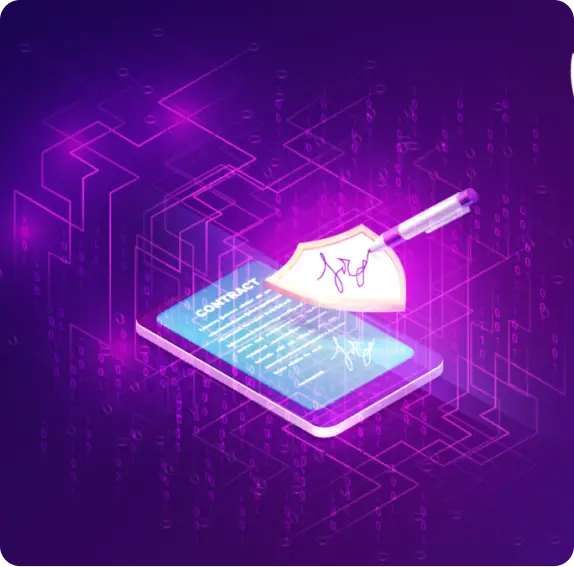 Smart Contracts are the Future
Smart contracts are self-executing, self-enforcing protocols governed by explicit terms and conditions that can transform how agreements are made across many industries, including real estate, supply chain, telecom, manufacturing, healthcare, and others. Comfygen is an experienced smart contract development company with a deep understanding of diverse businesses and industries. Our team of smart contract developers is capable of creating an outstanding computer-based protocol to automate business transactions.
nft smart contract
development in India
Smart Contracts are self-executing digital contracts developed on the blockchain network mainly for immutability and security. The smart contract can be signed by two parties without a third party's involvement. Funds are transferred automatically between parties when such requirements and criteria are met. A Smart Contract's data is stored in the ledger, which makes them more secure.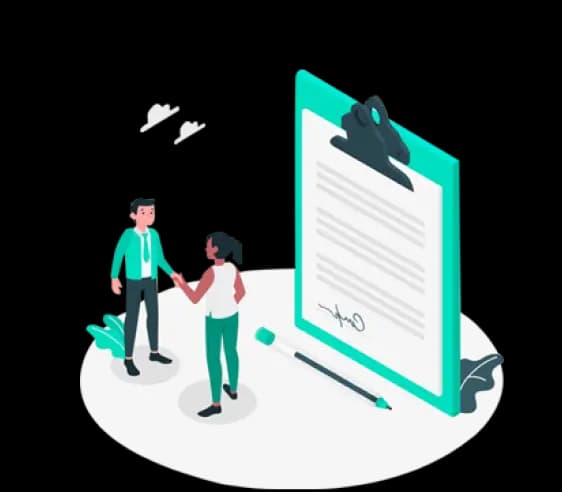 SET UP YOUR SMART
CONTRACT
Smart contract development, security audit services, and solutions are offered by Comfygen, a leading smart contract development company. Whether you need smart contracts built for your existing blockchain or new smart contracts developed for your company, we specialize in developing self-executing digital contracts. By implementing the bug-free smart contract, we help you propel your business to new heights. Avalanche, Fantom, Binance Smart Chain, and Polygon are just a few of the blockchain platforms our experts have experience designing smart contracts on.
Services for smart contracts
Applications that are decentralized
RAudit of smart contracts
DAPP for smart contracts
Hire a dedicated smart conttract developer
Smart Contract Programming Languages Our Experts Use
Solidity
Ethereum smart contracts are written in Solidity, a high-level programming language. There are similarities between it and Python, JavaScript, and C++. The logic of smart contracts can be stored in Solidity, because it is a contract-oriented programming language. Library & inheritance support is available, as well as statistical typing.
C++
Developers building on the EOS blockchain benefit most from C++, a general-purpose programming language. The best feature of C++ is that it is capable of scaling resource-intensive applications and running them seamlessly.
Golang
Google developed an open-source programming language called Golang that is based on the syntax of the C programming language. In addition, it promotes concurrent programming, allowing multiple processes to run at the same time.
JavaScript
A fundamental pillar of web design is JavaScript, a dynamic object-oriented programming language. To write smart contracts on the NEO blockchain, developers use JavaScript.
Our Smart Contract Development Process
Discovering Your Business
Our team understands your business, your goals, your pain points, and your priorities. We map your existing workflows and future goals using these multiple brainstorming sessions.
Designing a solution
The design and prototyping of your platform or product begins at this stage after we gather your requirements in a whiteboard session.
Development
In this stage, the designs you approve are programmed and coded. Alpha, Beta, and Release phases comprise our development lifecycle.
Testing and QA
During each release, we perform in-depth QA testing to guarantee that the final product, that is ready for market, is error-free.
Launch and Maintenance
You go live with your product or platform here. As soon as you approve, our developers publish your product in live environments. Besides cloud hosting, we also provide on-premises hosting services.
Support and Customer Service
To maintain continuous improvement, we optimize products and platforms, implement market strategies, and offer real-time support.
Why does your Business need Smart Contract Application
Accounts with multiple signatures
Member approval is required before funds can be transferred from the main account. Multisig contracts provide decentralized control of funds, which makes them an excellent solution for asset sharing. Each sensitive transaction requires the approval of several parties, so multi-signature contracts prevent single points of failure
Storage
The storage capacity of smart contracts is extensive, and they can maintain their persistence for a long period of time. In the same way as Ethereum (ETH), blockchain data is immutable, unique, and cannot be altered in any way. A set of parameters can be set to keep, update, and automatically release records.
Support from third parties
The use of smart contracts eliminates third-party involvement, but not entirely. Different roles are played by them within the network. To create a contract, a lawyer is required rather than drafting a separate agreement to understand the conditions. In addition, smart contracts can communicate with each other in a network similar to software libraries.
Financial obligations coding
It is primarily used to manage usage agreements that financial commitments are coded. Smart contracts can be encoded with reimbursement rules, for instance, when a person requests insurance.
Why Choose us For Smart Contract Development Service?
01
Experts in blockchain technology
We Experienced developers will analyze your business needs and deliver you with the best results for your blockchain project.
02
Maintenance & Support
We provide support at every stage of the project with a support team and a feasible maintenance plan.
03
Reliability meets creativity
In order to ensure that our clients are getting the most value for their money, we use the latest technologies on the market.
Let's hear what you have to say?
Get in touch with us and discuss your needs and requirements with our experts.
Blockchain Smart Contract Development Process
Development of Hyperledger smart contracts
With Comfygen, businesses across various industries can deploy enterprise-grade Blockchain technologies. At Comfygen, we have the expertise to transform your enterprise ecosystem into a cutting-edge, secure, and auditable one with Hyperledger Blockchain.
We developed robust and valuable DApps for companies with our expertise in Hyperledger Fabric, Sawtooth, and similar frameworks. The goal of using Hyperledger frameworks, tools, and libraries is to enable enterprise-grade business solutions to as many businesses as possible.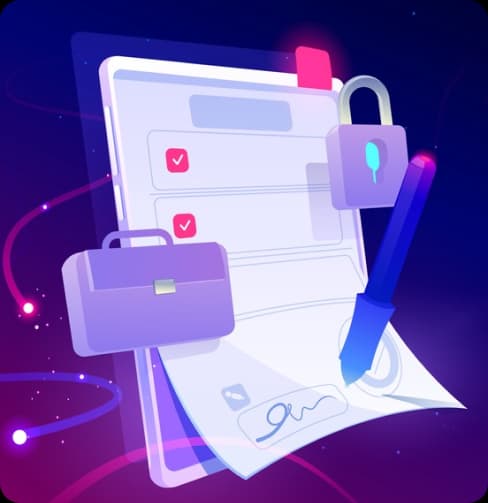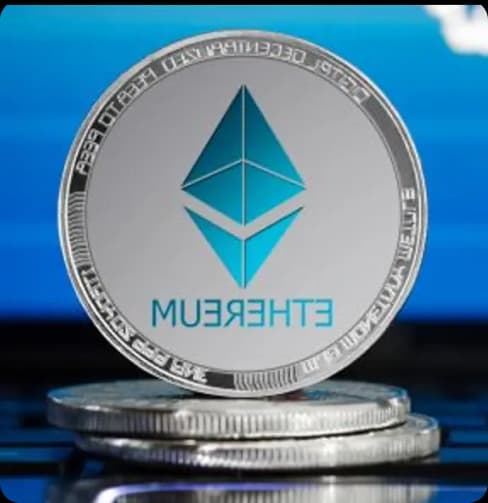 Ethereum Smart Contract Development
Smart contracts can be created and run on blockchain platforms. On Ethereum Smart Contract Development, you can also run any program since it is one of the blockchain platforms that allow arbitrary code execution.
In addition to crowdfunding, bidding, permissioning, and dApps, At Comfygen, we have a team of competent contract developers who develop secure and efficient smart contracts. Consult us if you are interested in developing Ethereum smart contracts for your business operations.
MultiChain Smart Contract Development
Smart legal contracts, the most common type of smart contracts, are subject to the same laws as their traditional counterparts (valid offers and acceptances, consideration, capacity, and legality), and they set out the manner in which parties will be held responsible for fulfilling their end of the deal. Smart contracts are legally enforceable when set up properly and require the parties to fulfill their obligations; failure to fulfill obligations may result in legal action being taken automatically against the party that is in breach by the smart contract.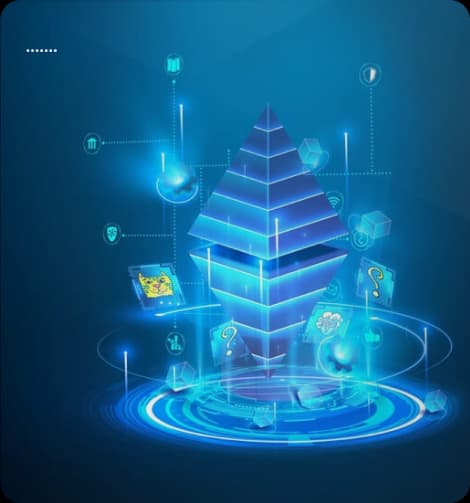 Our Cryptocurrency
Development Technology Stack
Binance
Cardano
Coinbase
EOS
Ethereum
Ethers JS
Solana
Binance
Polkadot
Trust Wallet
Polygon
Wallet C.
Frequently Asked Questions
Smart Contract Development Services
How does outsourcing for Smart Contract development work?
The answer is yes. Full-time, ready-to-hire Blockchain experts are available for hire on Ethereum, Quorum, Corda, Stellar, Hyperledger, EOS, and more.
How long does it take for a Smart Contract development project to go live?
An average project lasts between a few weeks and a couple of months, depending on its scope. The project is delivered on time and to the highest quality standards using the agile development approach.
Can I hire Blockchain Smart Contract developers on a full-time basis?
Yes, definitely. The project manager assigned to you by our company will keep you informed about your daily progress reports. The project developers can also be contacted via Skype or email if you would like to know more about the project.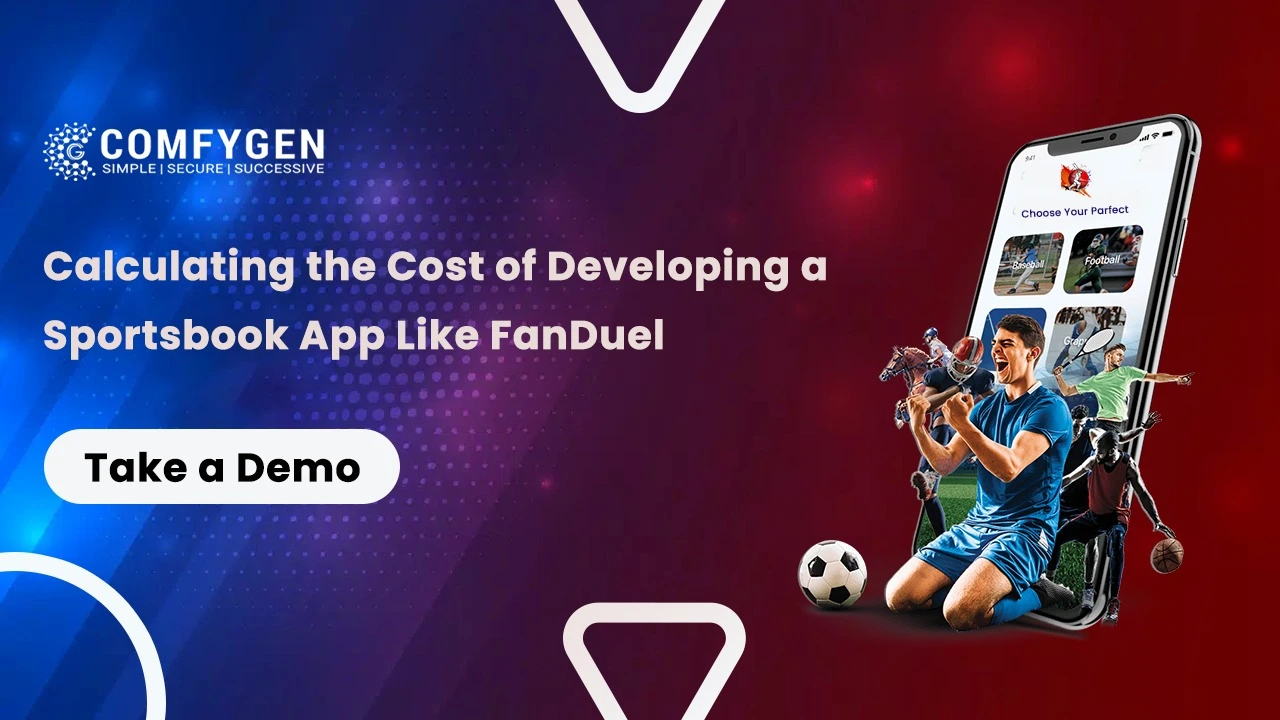 Curious about how much it costs to create a sports betting app like Fanduel? We break down the expenses involved in developing a Fanduel-like sportsbook app, including design, development, and maintenance costs.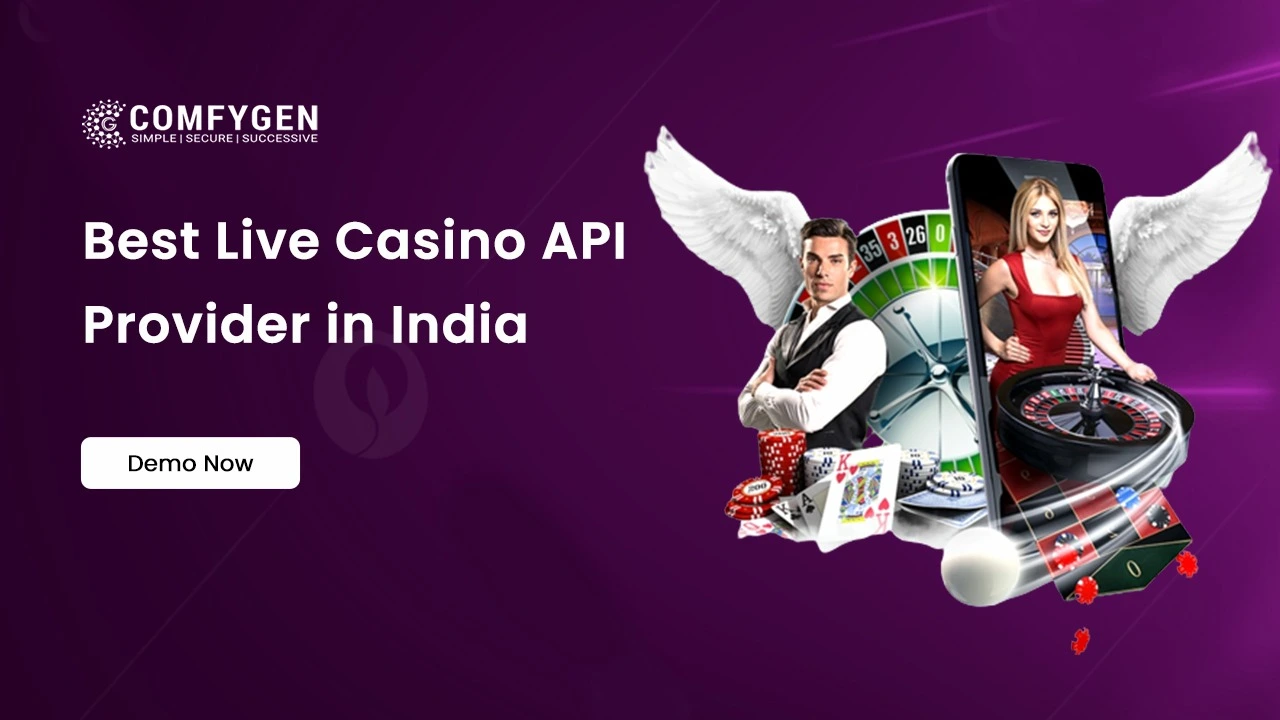 Discover the best Live Casino API provider in India and get the best gaming experience with secure and reliable software solutions.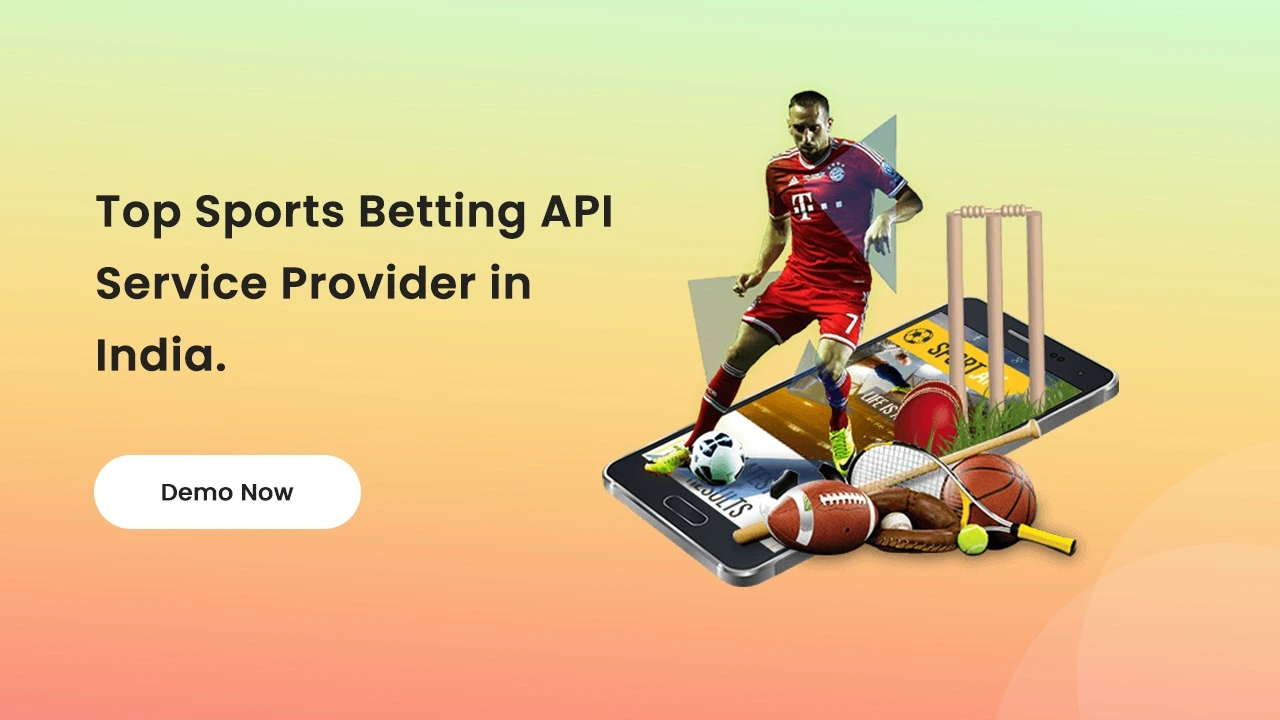 If you're looking for a reliable sports betting API service provider in India. we've compiled a list of the top reliable sports betting API service providers in India