Satta matka app development is on rise and if you want to develop a satta matka game with high-end features, you must read this blog to the end.
You'll learn:
Benefits of investing in satta matka app development
Features to be involved in a satta matka game app
Cost of developing online matka game app
Frequently asked questions about satta matka app
Satta Matka in alternate term pronounced as Satta king is an highly popular lottery-based casino game that initially originated in India in the late 1950s.
Between the 1950s to 1990s, the game was massively popular and played in India.
Since the inception of tech gadgets and mobile devices, it has been played online from smartphones, personal desktop, and laptop.
Due to this, the number of Satta matka online players has been gradually increased.
This gave many versatile Satta matka app development companies new scope of generating potential revenue.
In this blog, we'll discuss everything about online satta matka app development including the features and cost parameters.
What Is A Satta Matka Game?
Satta matka is a kind of gambling game which includes prediction of a number-based lottery game.
It works in this manner. Submit a number of your choice with a price and upon ending of the time, wait for the announcement of the winner.
If the announced number matches with your prediction number, it is known as jodi, which means you won with the amount or prize pool it may come.
What Is Satta Matka App Development?
Satta Matka App Development refers to the creation of a mobile application that allows users to participate in the game of Satta Matka.
Satta Matka is a form of gambling that originated in India and involves betting on the outcome of numbers drawn from a matka, which is a type of pot.
Also, read: White Label Fantasy Sports Software Development Cost and Features
Features Of Satta Matka Software App Development
Satta matka app development involves a number of features with varied app screens such as login, profile, bank page, settings, withdrawals, history, satta matka market, help and support.
Features: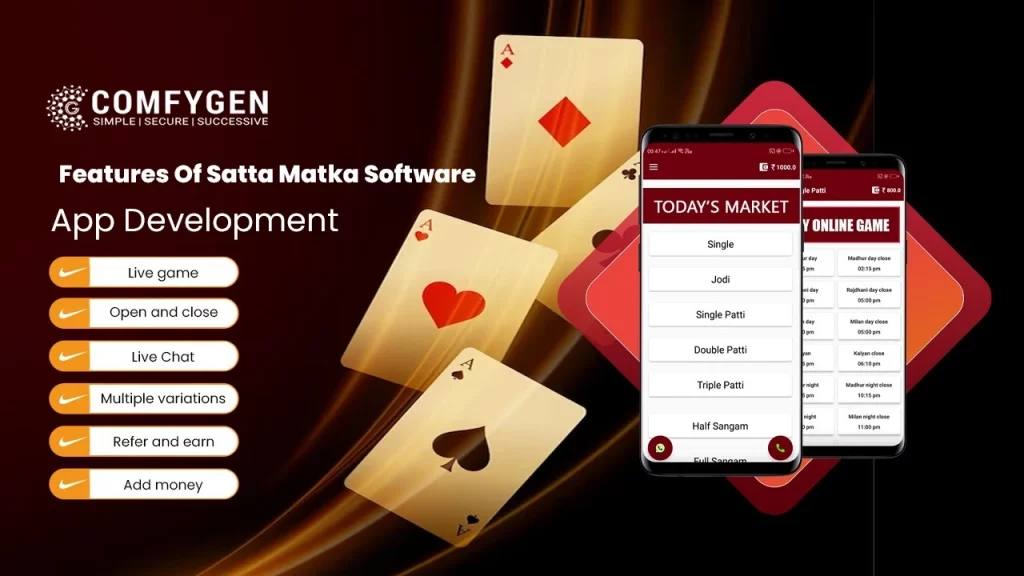 Here's the complete features of satta matka software app development.
Live game: The online satta matka game involves live market with real-time players.
Open and close: It involves announcement of numbers at the opening and closing time.
Live chat: This feature helps players to interact with other satta matka fans in real-time.
Multiple variations: This feature gives a player with different satta matka market experience.
Refer and earn: This feature allows business to earn money when a player refers to another friend to play.
Add money: This feature helps a player to add money from their bank to the wallet of satta matka game app.
Suggestions:
Here's more suggestions on the satta matka app development features. Incorporate the following feature to make your satta matka mobile game more competitive and powerful.
User-friendly interface: The app should have a simple and easy-to-use interface that allows users to navigate and access different features without any difficulty.
Multiple games: The app should offer a variety of Satta Matka games for users to choose from, such as Kalyan Matka, Main Mumbai, and others.
Secure payment options: The app should have secure payment options that allow users to deposit and withdraw money easily and safely.
Real-time results: The app should provide real-time updates on the results of the games, allowing users to keep track of their bets and winnings.
Tips and tricks: The app may include tips and tricks to help users improve their Satta Matka skills and increase their chances of winning.
Live chat support: The app may have a live chat support feature that allows users to get assistance and support from customer service representatives in case of any issues or queries.
Notifications: The app may send notifications to users about upcoming games, events, and other relevant information.
Leaderboards: The app may have a leaderboard feature that displays the top players and their winnings, providing users with a sense of competition and motivation.
Data protection: The app should ensure the security and privacy of user data, with robust encryption and protection measures in place to prevent any unauthorized access or misuse of personal and financial information.
Also Read: Online Casino Games API Integration in India
Advantages Of Investing In Satta Matka App Development
Online satta matka game is massively becoming popular day by day. Playing matka games online on mobile attracts more and users to play with friends and compete to earn real cash.
Being played by millions of players online, satta matka game development company can earn massive ROI. This gives scalable growth to satta matka app development agency.
Another advantage of investing in a satta matka game app design is that businesses can escalate revenue models by introducing multiple monetization strategies in the game like subscription, in-app advertisement, brand promotion, and more.
Convenience: With a Satta Matka app, users can play the game anytime and anywhere, without the need to visit physical locations or play on a desktop computer.
Revenue generation: For app developers, Satta Matka app development can offer a lucrative revenue stream, with opportunities for in-app purchases, advertisements, and subscription-based models.
Brand building: Developing a successful Satta Matka app can help establish a strong brand presence in the online gambling market and enhance the reputation of the app development company.
Popular Satta Matka Apps Development Around The Globe
Here are the names of some popular Satta Matka apps that have been developed:
Satta Matka Online
Kalyan Matka App
Mumbai Matka App
DPBOSS App
Satta King
Matka One
Matka India
Matka Satta
Matka Result
Matka Pro
These apps offer various features such as real-time results, secure payment options, multiple games, and user-friendly interfaces, among others.
It is important to note that online gambling is subject to regulations and laws, and users should ensure that they are in compliance with the relevant rules and regulations before using these apps.
How Much Does Satta Matka Software Development Cost?
If you are planning to design your own (personalized) satta matka app for your target audience, the cost of developing an online matka game is affordable and budget-friendly.
The online matka app development cost could range between $10000 to $20000 in India.
However, it greatly depends on varying factors such as in-app features, number of screens, payment integrations, complexities, and developer charges.
Contact satta matka app development company to know more about game design, blueprint development, app features, and app design and development process.
Satta Matka Software Development Company
A Satta Matka software development company specializes in developing software solutions for the online gambling industry, particularly for the game of Satta Matka.
The company typically offers a range of services that are aimed at providing a comprehensive and customized solution for its clients.
Custom software development: The company may provide custom software development services, tailored to the specific requirements and needs of the client. This can include the development of a Satta Matka app, website, or backend system.
API integration: The company may offer API integration services to help clients integrate their Satta Matka app or website with third-party platforms, such as payment gateways, analytics tools, and other systems.
Testing and quality assurance: The company may conduct thorough testing and quality assurance processes to ensure that the software is reliable, secure, and user-friendly.
Maintenance and support: The company may provide ongoing maintenance and support services to help clients ensure the smooth and efficient functioning of their software.
Why Choose Satta Matka App & Software Development Company?
Choose a reliable Satta matka app development company to design user-friendly and competitive matka game app parallel to other competitive alternatives that offer live game, notification, friendly UI, and real-time results
Choosing us for satta matka apps development never let you down in any matter because of the following reasons:
Experienced team of designer and developer
Provide 100% customized solution
Best support with rapid communication
Affordable solution & budget-friendly price
Need A Satta Matka App & Software?
Contact our support representative to initiate a conversation for Satta Matka app development. Discuss your requirements directly with experts!
FAQs
Q. Have you designed a satta matka app before?
Yes, we have designed various satta matka applications for the Android and iOS audience. 
Q. Is it profitable to create a Satta Matka Game Application?
Yes, many players are downloading satta matka game applications and betting into various markets to win real cash prizes. 
Q. How long does it take to create an online Satta Matka game application?
It depends on the complexities of the project. Generally it takes 60 days to complete satta matka game development.